Harrisonburg Car Accident Lawyer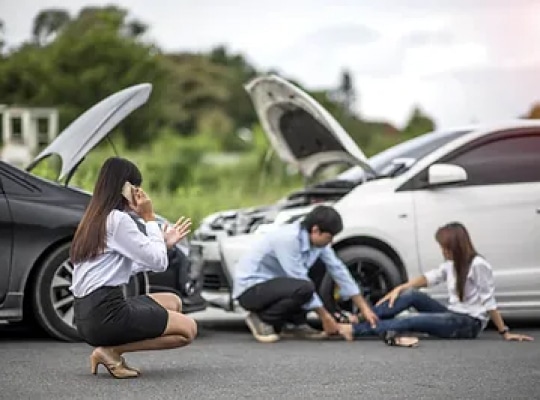 A serious car accident can be one of the most unpredictable and devastating life events someone can experience. Without warning, your life goes from a fairly predictable routine to a chaotic array of medical bills, interruptions in income, pain, and possibly the loss of mobility. No one should have to go through the aftermath of a severe car accident by themselves. With the right legal advice, you may be able to receive the compensation that you need to make a full and fair recovery. The women's legal group at Tucker Griffin Barnes has been successfully representing car accident victims in Harrisonburg for years.
We are a Harrisonburg, VA personal injury law firm that gets results. Contact us immediately for a free consultation at our Harrisonburg law firm.
Compensation for a Virginia Car Accident
If you've been injured in an accident, in addition to the physical pain and bodily damage that you'll experience, you will more than likely incur expenses for hospitalization, doctor appointments, prescription medicines, medical equipment, tests, scans, lost wages, transportation costs, and property damage. These bills can pile up quickly. In Virginia, personal injury lawyers like the ones at Tucker Griffin Barnes seek full compensation from insurance companies on behalf of their clients. Car accident damages fall into three general categories: economic, non-economic, and punitive damages.
Economic Damages
These include any and all expenses that have a fixed monetary cost associated with them. For example, the itemized bill from a hospital stay can be easily quantified. Lost wages can also be added up and included in a list of costs. Insurance adjusters will often concede to large-ticket items when they are negotiating a settlement, but it takes an experienced personal injury lawyer to tabulate a full accounting of expenses.
Non-Economic Damages
Accidents involving injury also come with pain, suffering, emotional trauma, and sometimes incapacity. For many of the consequences of a car accident, there's no specific dollar amount. For instance, an accident victim may lose the use of their writing hand for a period of time. While the money for the hospital bill and reconstructive surgery may eventually get the hand back to full functionality, it's a tremendously inconvenient injury — and painful. Non-economic damages attempt to fairly compensate the victim for their pain and suffering.
Punitive Damages
In the Commonwealth of Virginia, punitive damages are capped at $350,000, but they aren't awarded in most car accident cases. Punitive damages are generally awarded to punish the defendant for egregious, willful, or wanton negligence. In car accident cases in Virginia, they may be awarded when the at-fault driver was under the influence, driving recklessly, or involved in a crime, like fleeing from the police.
Filing an Insurance Claim in Harrisonburg VA
For all intents and purposes, Virginia is a fault state. If you are involved in an accident with another driver in Harrisonburg, for instance, you would have a claim against their insurance company for your injuries. You might be surprised to find that if you're injured in an accident, the insurance company will be willing to quickly settle your claim. They may even offer to cut you a check right on the spot. That's because they are hoping to get you to settle your claim before you can seek the legal advice of a personal injury law firm.

The money that the insurance company offers may be suitable to cover your car damage and your initial injury, but it will fall far short of a full and fair settlement. In addition, the money comes with the condition that you sign a waiver of liability, which means that you won't be able to seek further damages with your lawyer if you find out that the money they gave you isn't enough. Do not sign a waiver or accept money from insurance companies before speaking with a Harrisonburg car accident lawyer about your injury case.
What to do if You're Injured in a Car Accident in Virginia
While the Commonwealth of Virginia has its own laws governing the reporting of car accidents, they follow the same broad set of practices adopted by most other states. The following recommendations are designed to assist you and your car accident lawyer when pursuing your claim. Please understand that all car accidents are different, so your particular situation may vary.
Make sure you're safe – While the initial impact of a car accident is dangerous, so are the moments immediately following one. Make sure that the road is clear before exiting your vehicle and then move to a position of safety.
Call first responders – Contact and request police and fire-rescue. The dispatcher will want to know your location, the description of the vehicles involved, and any known injuries. If you don't know where you are exactly, look for road signs, mile markers, or a familiar business. Knowing which city you're in, like Harrisonburg, VA, will at least let them know which agencies to dispatch.
Try to identify witnesses – There may be a number of people stopping or standing around after the accident. You'll want to try to get anyone who witnessed the actual collision to stay. If they aren't willing to remain until the police arrive, try to get their contact information.
Take videos and pictures – It could help your case to have videos and images of the street where the car accident occurred, damage to the vehicles, debris on the roadway, and injuries. This can be used later to help the law firm that you hire to reconstruct the accident.
Allow rescue workers to examine you – Your personal injury lawyer will be the first to tell you that getting proper medical treatment can only help your case. Most injury victims see their doctor before approaching a law firm. If necessary, allow the ambulance to transport you to the hospital.
Refuse to sign insurance paperwork – It's not uncommon for an insurance company to send an adjuster to the hospital or to reach out to you by phone in the hours after an accident. They will offer you a check in exchange for you signing a waiver of liability. If you want to maximize your payout, speak to a Virginia car accident lawyer about your case before you accept payment, and refuse to make any statements or sign any paperwork without legal counsel.
Contact an experienced personal injury lawyer – Many accident victims are concerned about the cost of hiring an attorney to handle their personal injury cases, but personal injury lawyers in Virginia and many other states work on a contingency basis. This means that the law firm only gets paid once the case has been settled or otherwise paid out through the Virginia civil courts. Accident victims don't pay out of pocket for attorney fees. If you've been injured in a car accident in Harrisonburg, VA, you can trust the experience and acumen of the attorneys at Harrisonburg's premier personal injury law firm: Tucker Griffin Barnes. We have been serving Harrisonburg and Rockingham County for years and we have had tremendous success negotiating and litigating personal injury cases. Call today for a free consultation.